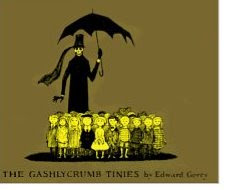 Having been stuck in bed for several days fighting off bronchitis, I've been forced to turn to my collection of Gorey books to ward off insanity. Or maybe just to feel sane in comparison to the absolute and utter insanity that is Edward Gorey.

If you've not read Gorey, you've missed out on a truly oddball alternate universe. I suppose his most popular book is The Gashlycrumb Tinies, where

he kills off a series of small children in alphabetical order

. "A is for Amy who fell down the stairs. B is for Basil assaulted by bears…" The front cover shows the children lined up with their "nanny", the back cover shows all 26 headstones, and the book takes you on the tragic journey between the two. And it's all utterly fabulous.

My favorite Gorey book is The Object-Lesson. I don't even know how to describe it, although apparently it's been classified as surrealist art. It has an incredibly twisting plot, which seems logical as you follow it, yet makes absolutely no sense at all. It starts out with

"It was already Thursday, but his lordship's artificial limb could not be found…"

I can see you're desperate to know what happens next, but I refuse to ruin the plot(ish). You'll just have to read it for yourself. And not in the multi-book reprint (the Amphigorey). You need the original small books to get the real effect. So go on, get out of here, go forth and read some Gorey. Go! Scat! And watch out for bears. Particularly if your name is Basil.