Finally, we made it to Comic-Con! It's always an event - I like to just walk around and soak it in. Once again I attended under an alias because… um… I like my anonymity! Yeah, that's it. It has absolutely nothing to do with friends with four day passes who flew home early.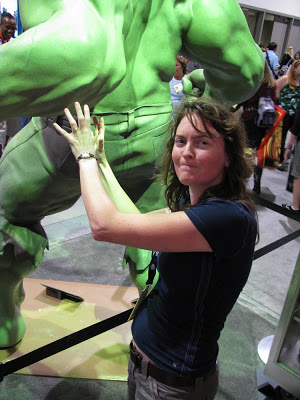 I know I've been working on my pushups, but I don't think I'm ever going to catch up to the Hulk. But hey, a girl can dream. On the other hand, if my biceps were that big, I wouldn't fit into my clothes. So I suppose it's all for the best.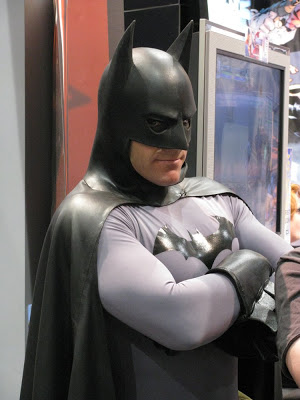 On the plus side, I did get checked out by Batman - an event I would have missed entirely, being the oblivious sort, if my friend Russ hadn't pointed it out, and if Andy hadn't gotten a picture of it. I have to admit, he doesn't seem to be looking at my face… If it had been the real Batman (you know, Bruce Wayne, the billionaire), it would have been the best checkout yet. So there you go, Bruce Wayne. If you're reading this blog, you know where to find me!

More Comic-Con photos tomorrow, but for now, you can feed your Comic-Con addiction on my Flickr page.