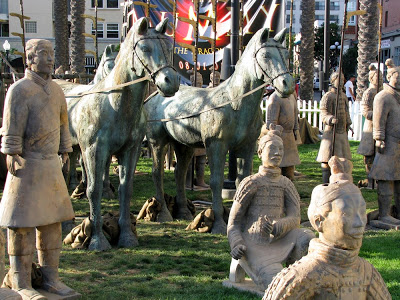 Imagine my excitement this morning when I discovered Terracotta Warriors just blocks from my house! Well, OK, maybe you can't imagine my excitement. Let me set the scene.

My original training is as a sculptor, and I have a true passion for it. Even when I was a kid, my brother was always drawing. But I was creating little shadowbox worlds in shoe boxes with Play-doh. Very detailed worlds. I adore sculpture. I live for sculpture. Wherever I travel, I seek out sculpture. Just looking at it makes my fingers tingle, and I itch for some clay to play with.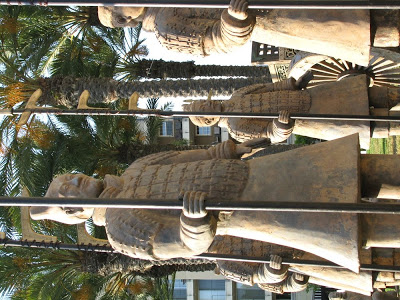 We were in China last year for Chinese New Year, and I desperately wanted to see the Terracotta Warriors, because they are the ultimate sculpture immersion experience. But it was Chinese New Year, when everyone in China travels, and there was no way to get plane tickets. Now don't get me wrong, we had a blast visiting my friend in Shanghai for two weeks. But I have to go back. Because I haven't seen the Terracotta Warriors.

So, now you can imagine my excitement, yes? Walking the dogs this morning, looking at crazy people in and out of costumes, when suddenly, out of nowhere - Terracotta Warriors! Universal Studios brought them in as a promotion for the movie The Mummy. I'm assuming they're film props. I also have a passion for film props, which I consider sculpture, so it's a two-fer!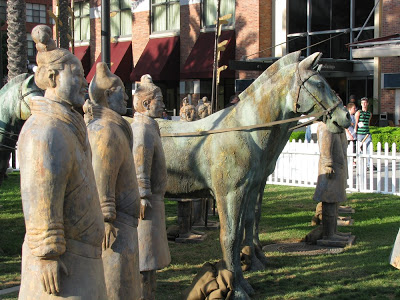 You can see more pictures of the Terracotta Warriors, including their close encounter with the Teenage Mutant Ninja Turtles, on my Flickr page.