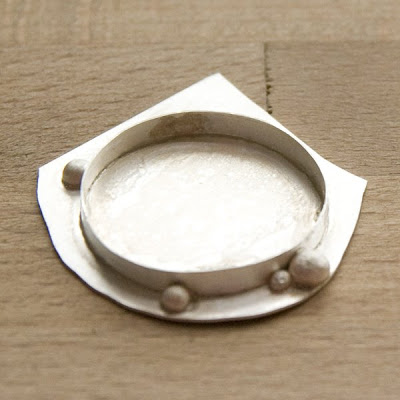 I started playing with these little silver balls yesterday.

I love the three dimensional quality of them, and the playfulness they add to designs

. Not to mention I make them myself by melting down scrap silver. I love recycling!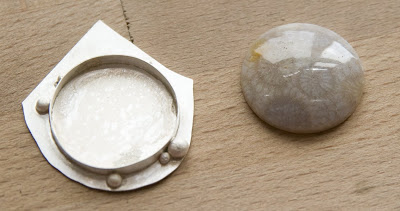 I have a nice collection of cabochons sitting here, all begging to be set.

This stone is a piece of fossilized coral, which has a pattern that reminds me of jellyfish.

It's a lovely smokey gray with two amber spots. The silver balls around the setting make me think of bubbles, which seems really appropriate for my jellyfish stone.

I thought I'd take a picture of the setting in process for y'all.

These shots show the piece soldered and pickled, before being sawed out.

If I remember, I'll take a couple-few more shots along the way. I'm excited about this one. Actually, I'm excited to be able to get back to my bench after this bout with the flu!