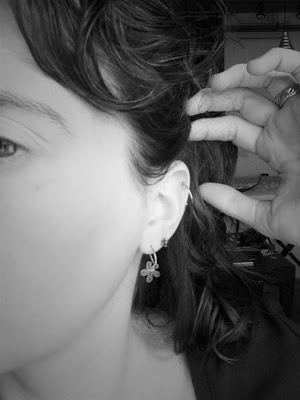 I had a fun day at the bench yesterday, experimenting with new designs and putting together custom orders.

I ended up working until 8:00 in the evening and I didn't even mind.

It's a lovely thing to enjoy what you do so much that it doesn't feel like work.

I took a couple of quick photos to share a few of my pieces from yesterday with y'all. In the front (below) is a Bent Sprout Nose Stud in 18 gauge white gold for one of my customers, who will be headed out to get her nose pierced once she gets this lovely piece in the mail. Apparently,

if you're too hip to be happy with surgical steel, you can use yellow or white gold in unhealed piercings, too

(as long as you aren't sensitive to nickel).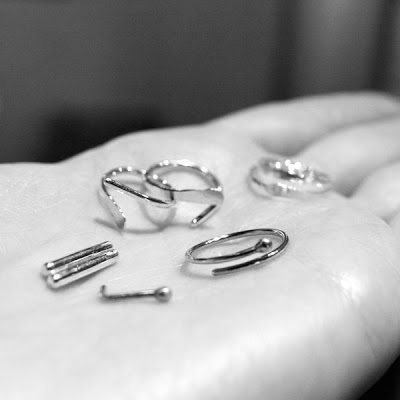 I was so happy to find this out that

I made myself a new hoop out of white gold

- it's that curly looking hoop in the front on the right. My Krav Maga class starts up again on Monday, so I need to be able to take my cartilage hoop in and out easily, even though the piercing isn't quite healed yet. The captive bead ring I had in there was a huge pain in the you-know-what to get in and out, so this was my solution. I popped it in yesterday (top photo), and it went in really nicely, but I think it's a bit too big for me. So I'll be making a smaller version today to test out.

Also in the top photo you'll see my Cherry Blossoms Open Hoops, which are still glued to my ears, and my experimental Bloom Studs in my second piercings. I oxidized this pair, but I think I preferred them lighter. So I'll be making up another pair today to try out.
I am my own best guinea pig.

Once these designs pass muster I'll add them to my shop. New things are a-comin'!
I've also made a nose stud and a nose screw in the Bloom design, and I'm tinkering with an open hoop design in my head. We'll see what happens.

Back to the remaining mysterious items in the second photo. The two little cylinders on the left are 12 gauge plugs in sterling silver. I'm planning to offer these in my shop just as soon as I get them photographed. The two pairs of earrings in the back are custom orders - Mini Loops in 16 gauge in the middle, and 13mm Curls in 20 gauge on the far right. I oxidized the Curls for my customer as well. Very cool!