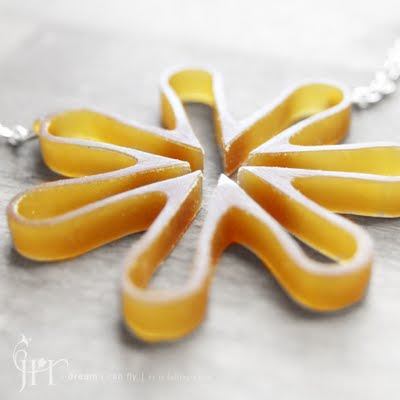 I am, I wholeheartedly admit, a big fan of Project Runway.

It's hard for me to decide what I'm more excited about

- the new season of Project Runway or the return of Etsy Metal's weekly Project Runway challenge.

For those of you who aren't familiar with the concept,

every week we get a new jewelry challenge

based on the newly aired episode of Project Runway. We have a week to design a piece, crack it out, photograph it, and post it, all before the next show airs.


This week we were challenged to create something from the scrap materials sitting on our workbenches.

If you've ever met a metalsmith, you'll know our workbenches tend to be covered in scrap materials

, so I certainly wasn't lacking for choice…

I made my flower necklace from the block of wax you see in the foreground. I had already cut the flower you see in the background out of this piece of wax. (Photos of that other mysteriously-out-of-focus flower pendant are coming soon.) I admit

I've been eyeballing this leftover wax for weeks

, just because it looks so cool. I'm awfully happy I kept it!

* Now finished and available for purchase in my shop.