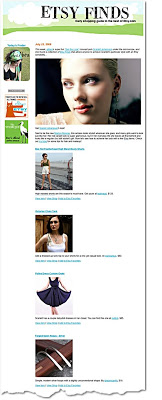 Apparently if you wear my fabulous Forged Open Hoops, you, too, can look like Scarlett Johansson. That's according to the Etsy Finds newsletter, anyway, which featured my earrings today, along with some great clothes and shoes. You can see my earrings down there at the bottom of the picture. Or check out the Storque article[link broken] to see it larger, so you don't have to squint ;)

It's all very cool, as this is the first time I've been featured on Etsy. And the readership for their newsletter is 13,000. Yikes!

GilBea, the author of today's Etsy Finds, also featured my Forged Open Hoops on her shopping blog, GilBea's Fashion & Handmade. Thanks GilBea!