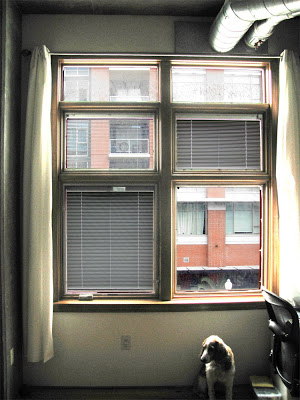 I couldn't even begin to make this up. Because I'm not this funny. Or this creative. And yes, in case you're wondering, this is the After picture…

No, no, you're wrong. It's not the same as the Before picture. There are some improvements. You'll notice the middle window on the left now has a blind! Of course

it can't be closed

, but it's there. Closing your blinds is overrated, right?

The bottom right window, on the other hand… um, yeah. Let's not go there.

So

moving along briskly

, the third installment of this ongoing tale of Comedy and Horror will be published at the end of January (six more weeks!). Until then, stay tuned for more laughs at the Laugh a Minute Household, where Comedy in Action takes place on a daily basis!

I'm hoping by tomorrow I'll be laughing about this one…

Clueless as to what's going on? Desperate to join in the laughs? Check out the first installment of The Saga of the Pella Blinds, published back in October, or revisit the most recent installment from earlier today.