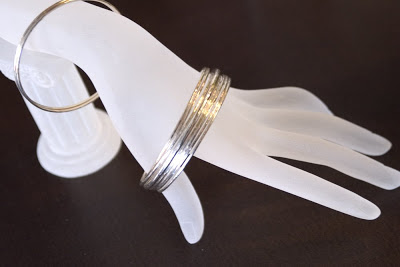 This weekend is dedicated to figuring out my displays for my jewelry show next weekend. I really don't know what I'd do if I didn't live two blocks from a shop supply store.

Have a nervous breakdown, probably.

I think I'm overdue for one…

I thought I had so much time to get ready when I arranged this show, but

I didn't really bargain on losing 3 weeks to bronchitis.

So I've been running around like a chicken with my head cut off for the last few weeks, just trying to make sure I have enough pieces for the show. Thankfully I'm finally at a point where if I had to do the show tomorrow, I could. Time for a deep sigh of relief.

I'm really loving this frosted glass hand I found with the display supplies.

I love the gestural feel of it

, and I love how my hammered bangles look on it. I'm going to make as many more bangles as I have time for this week. I'd love to run them all the way up to the wrist!

My chunky hammered bangles are available in my shop. Don't miss out!