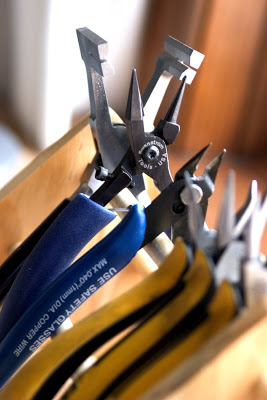 Yesterday Wendy suggested that I give a tour of my jewelry workbench. What a great idea! I'm sure a lot of you are confused by the jungle that is my workbench. Heck,

I get confused, and I know what everything is for.

Besides, I should be able to burn at least a week of Project 365 photos on this one…

So, the first stop on your tour is Pliers Central. Here you can see six of my seven most used pairs of pliers,

all racked up on my brand new pliers rack

. This saves me a lot of sorting through piles of wire looking for those missing pliers.

But hey, enough about me.

Let's get down to those yummy pliers!

From (fuzzy) front to (antlered) back, they are:

1) round nose pliers, which I use for

making loops and curves

in wire
2) flat nose pliers, which I use for taking out curves and adding sharp angles to wire
3) chain nose pliers, which I use for

reaching those hard-to-reach things

, and when I need a pair of pliers in each hand
4) flush cutters, which I use to cut wire (up to about 14 gauge)
5) specialty bending pliers, without which it would take me years to make those tiny curls
6) and finally my new jump ring cutting pliers, which I use to hold a coil of wire while I saw it into jump rings

I hope you've enjoyed your fabulous pliers tour. Next up? Um, whatever catches my fancy!