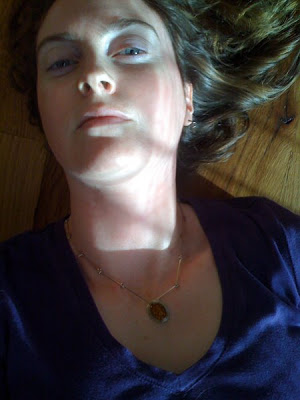 There are days when I'm glad no one is watching.



I'm currently trying to get more shots of my jewelry being worn, which I think is useful for the customers. And kind of fun, as well. Of course,

I don't really have willing models lounging around my loft

. So my photos end up being of… me. Which brings the obvious technical problems, mainly that I can't be behind the camera while I'm in front of the camera. My current solution involves holding my iPhone and aiming it at myself

more by luck than judgment

, and taking a bucket of photos. Because in most of them I've cut off half my head, or moved the camera, or my eyes are closed, or… Well, you get the idea.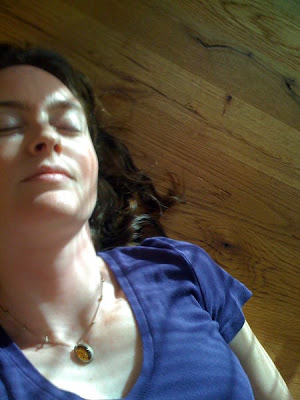 So anyway, I was contemplating how to photograph this amber necklace, and I suddenly realized that the light was coming in really low through the French doors. "What great light!" I thought. "How can I take advantage of this?" Fast forward to me, lying on the floor in front of my french doors, trying to arrange my hair and my necklace (and

fighting gravity as the pendant tries to slide off my cleavage and up into my neck

) while holding an iPhone over my head until all of the blood drains out of my arm, and taking photos without being able to see the "click" button. All while scooting around on the floor on my back

like some odd cross between an inchworm and a person

, trying to get the light to fall on the pendant. And then trying to look cool and casual while I take the pictures.

Anyway,

I love the cool but creepy effect of the lighting in the first photo, and how my left eye seems to glow.

The second photo is a much better shot of the necklace, so I used that one in the listing. I'm hoping it looks as "arty" as I think it does, and not just blurry…