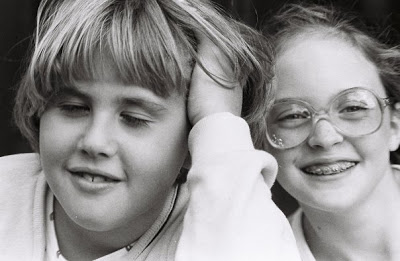 So I've finally been dragged kicking and screaming onto Facebook this week. What a laugh! I've found people I haven't talked to for more years than I care to count.

The real entertainment value, though, is in the photos.

These people have photos from waaaaay back in the dark ages. And they're really, really funny. I don't know which is weirder, looking at how we all looked way back then, or seeing how much older everyone looks now.

Anyway, for your sheer entertainment value, I give you a completely geeked out photo of me, age 11. Yes indeedy, that is me on the right there.

I'd like to you observe how I've finished off my fab look by adding my initials to the lenses of my glasses

. Because, you know, obviously the glasses and braces weren't geeky enough by themselves.