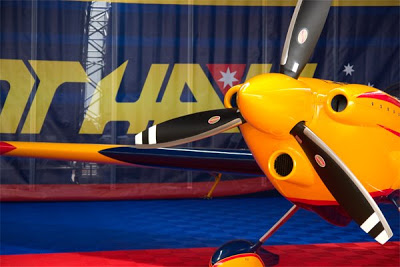 Wandering around the Red Bull Air Races pit lane walk yesterday,

I fell in love with the little faces on the front of the planes. They all look so surprised!



This is Matt Hall's plane. He's a funny bloke from Australia, and we had a lovely little chat with him (although I somehow failed to get a photo of him).

And by "we" of course I mainly mean Andy, who can talk planes with the best of them.

Did I mention Andy has his pilot's license? And that he used to build airline flight simulators for a living? He's a man of many talents, that Andy.





I love this quote, which Matt Hall had printed on the wall of his hangar:



"Once you have tasted flight, you will forever walk the earth with your eyes turned skyward, for there you have been, and there you will always long to return." Leonardo da Vinci



Mind you, on the other side of his hangar it said "The harder I work, the luckier I get." Ha!