I've finally made it back from vacation and back online. We got back in town on Sunday, but Monday was spent picking up the dogs from the ranch, and

yesterday swirled down the drain after my internet connection went down

. It's a little scary how dependent I am on that internet connection. Thankfully Andy spent his evening getting me back up online. Such a sweet boy. I think I'll keep him. ;)

Today is looking to be another humdinger, as I'll be working to catch up on all my orders. To add a little spice to the day, Ditto started hopping around on three legs last night. Did I mention she was just fine when she went to the vets yesterday morning? Ah, dogs. Gotta love 'em. She seems to have a puncture in the bottom of her foot, so I'll be soaking it in salt water today to see how it does.

Between Hop-along Cassidy here, and Kenya's eye infection which makes her look like she's been on a drinking binge

, the girls are quite entertaining (and expensive) this week.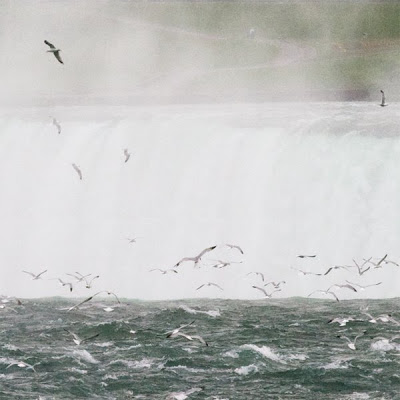 I did manage to take a ton of photos during our trip, which should be trickling online over the next few days. This photo is from Horseshoe Falls (the Canadian side of Niagara Falls). The seagulls swarm the top of the falls diving for fish. I'm thinking maybe the fish get stunned from hitting rocks in the rapids at the top? There are tons of seagulls fishing at the bottom, too.

I'm sure the huge drop with the rocks at the bottom leads to a sad day for the fish and a happy day for the seagulls.

In the background through the mist you can faintly see the park on the US side of the border, next to Niagara Falls.

You can see more of my vacation photos (and lots of other photos, too) on my Flickr page.