Every time I look at this little guy,

that Barenaked Ladies song goes through my head.



If I had a million dollars
I'd buy you a monkey
(Haven't you always wanted a monkey?)

Why yes, I do believe I have. :)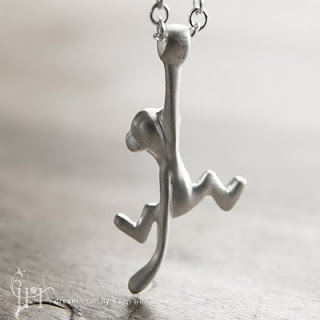 This crazy little guy is solid 925 sterling silver with a brushed finish and polished accents on his ears and the soles of his feet. He's 1 3/8" tall x 3/4" wide x 3/8" deep, happy as a clam, and

ready to head out on new adventures

. He's also available in polished sterling silver, so if shiny is your thing, there's a monkey for you, too!




This is the original sketch for my monkey necklace.

I usually do a page or two of sketches

to refine a design before I start carving it in wax.

I still make changes during carving though - you'll notice that I changed the design of the bottom hand, because it was too bulky once I got it into wax.

I never really know how a design is going to work out until I start carving it

, so I'm always open to making changes. I love wax carving - I never get bored!